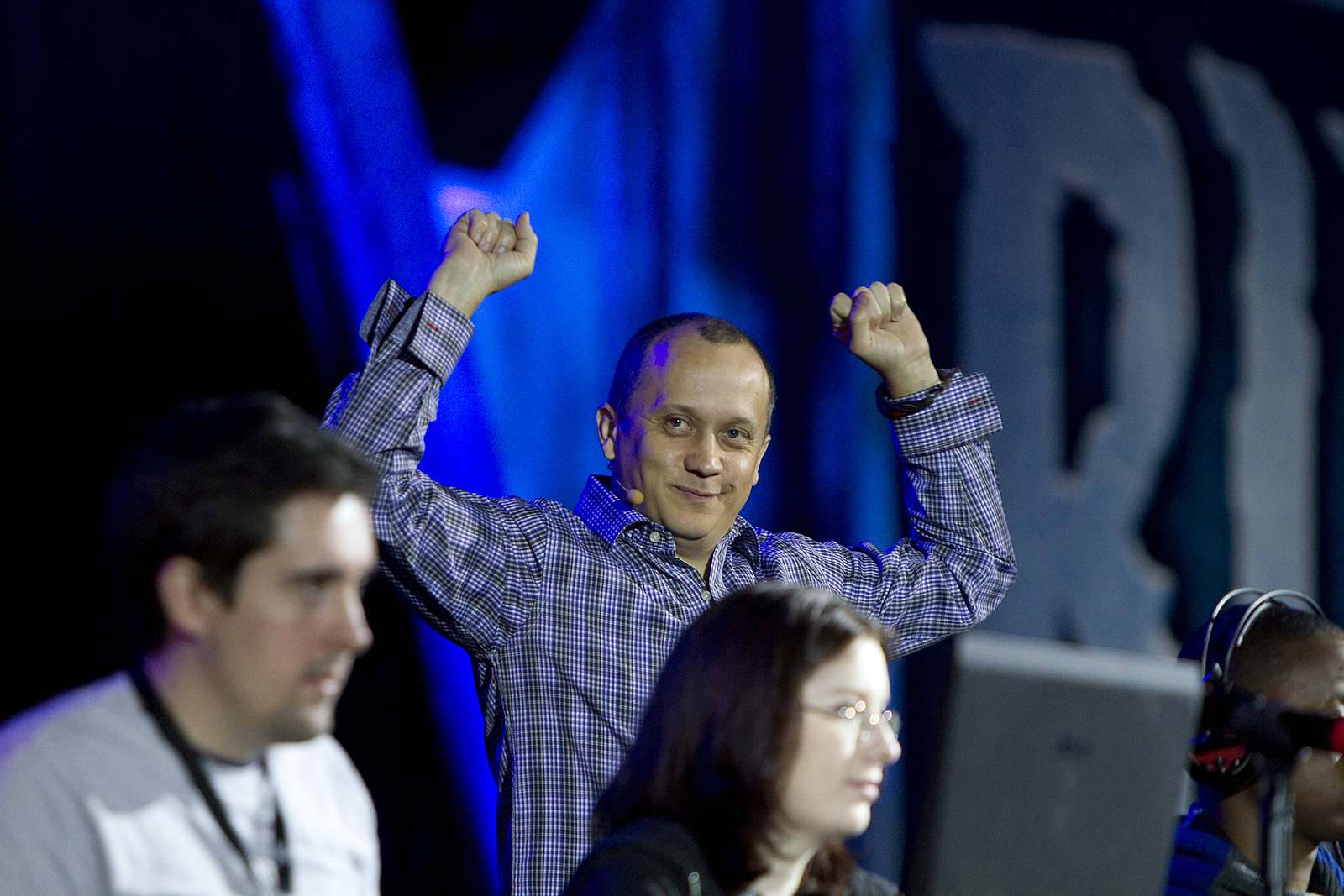 Ghostcrawler lifts a massive dumbbell; it's simply too large for your brain to comprehend. (img:blizzcon)
With just over a month to go, my thoughts are increasingly turning to Anaheim: thinking about what I was able to see and do in 2011, as well as the things I would've done differently. You're going to be at a convention with 20,000+ gamers who are passionate about the same game company as you are...it's best to be prepared to soak it all in properly.
See, in 2011, I was a Blizzcon noob and likely missed quite a bit. Then I thought, hey! Why not put together a little guide of pointers for those who might be venturing out to the con for the first time. Some of these may or may not apply to your personal situation, but I've tried to leave them as general as possible so everyone going to the con for the first time can take something away.
Get Your Badge on Thursday
While you can get your badge on Friday morning, people who grabbed their badges on Thursday will have formed a thousands-strong line into the actual con. There are several advantages to getting your badge on Thursday evening,
available at the convention center between 4pm and 10pm
: first of all, it saves you the bother of dealing with that on Friday morning, which is a reward in itself. That way you can stay up late doing whatever on Thursday night and not worry about having to get up extra early on Friday. Secondly, if you were looking to be among the first several-thousand to enter the convention center, perhaps to grab a close seat for the opening ceremony, having your badge in hand and getting in line early Friday morning is paramount to success. Plus, waiting in that line is cooler than waiting in just any line.
Prime Seating
If you want a close seat for any of the larger events (opening ceremony, xpac reveals, developer panels), arrive early and hold your seat. Personally, I'm not a fan of the group who sends one of their members to save a bank of seats for their 8 friends. But how you wish to handle this part is up to you. Really, there's not a bad seat in the house---you can see Ghostcrawler's dimples just fine on one of the various projection screens. The only event where sitting in the back had a major disadvantage (significant sound delay) was the closing concert.



SNA>LAX
Most have already booked plane tickets if traveling from afar, but if you haven't, our party recommends flying into John Wayne instead of LAX. It's about a 15-minute cab ride to the con vs. and hour plus cab/shuttle ride from LAX. That usually means a trip through SNA will be less costly. And if you stay up way past your bedtime on Saturday evening, you'll appreciate the extra hour of sleep.
Visit the Booths Early
There are loads of vendor booths at the con (i.e. Razer, Jinx, Cryptozoic, etc.). At many of these booths, there are trinkets and giveaways. However, it was clear to our party in 2011, after waiting to visit the booths until Saturday, that these companies did not bring enough giveaways for every single con attendee. So if you're looking to maximize your swag, try to hit the booths earlier on Friday.
Mind the Schedule
There's a lot to do and see. Realm meetups, to lore panels, live PvP matches, game testing, the booths, the people---you may not have time for it all. That's why it's important to mind the schedule. There's an app you can get for most smartphones, or the official physical program will do just fine.


Bring a Backpack
My fellow attendee and I were a bit worried about the size of our backpacks in 2011 (
traditional Jansport double-strap bags
). In fact, I'd brought a smaller sack for the first day that wasn't very useful until I saw they were allowing
normal
-sized backpacks. Of course, this is where you'll be stuffing all that free swag or items you've purchased, but also it's wise to bring along a water bottle and perhaps a snack.
Autographable Paraphenalia
Bring a Sharpie and something for Blizzard folk to deface with said Sharpie. I recommend perhaps the art book from one of the Collector's Editions. This year, I'm contemplating bringing along the original game guide that came in my physical copy of Vanilla. Because nostalgia.
Good Shoes
There will be lots and lots of walking---even if you're staying adjacent to the convention center. While comfortable doesn't always translate into the most stylin', comfort trumps style here.
Learn Something New
There will most likely be aspects of the Blizzard universe represented at the con that you aren't very familiar with. Try to go outside your comfort zone and experience something new. For me, though it may seem insignificant, it was Esports, specifically 5v5. My fellow attendee and I were in awe watching these players in 2011.
Talk to the Blizzard People
They will be out and about; if they were trying to avoid talking to players, it'd be real easy for them to do so. One of my favorite memories from 2011 was looking Mike Morhaime in the eyes while shaking his hand, thanking him for the awesome experiences he and his team have created.
Evaluate Your Loot Bag's Worth
The novelty value of my loot bag was quite high when I initially received it, but it has continually declined as the 2011 con fades farther into history. Did I really need that Tyrael statue? Or the mini-Thrall or companion pet? The reason I bring it up is because those goodie bags, at least initially, are of high value to those who didn't attend the con. By high value, I mean that I've seen some bags sell for the price of a con ticket in the days and weeks following the con. So while you might want to rip through that goodie bag to examine your hawt lootz, I'd suggest you first try to evaluate the contents' true worth from an objective point of view. I'm not saying I'll be selling my goodie bag this year, but I will pause longer before I decide to keep it for myself.


Pace Yourself to Stay Up Late
My partner-in-crime at the last con was an early-to-bed, early-to-rise type of guy. I'm a late-to-bed, early-to-rise type of guy when it comes to the con. I don't think I turned in before 1:30am on any of the nights, and I was by no means the last one at the party. I feel fortunate to be able to attend for the second time. Note that this might be your only chance---don't waste it. I can tell you that my friend who came with me to the last con regrets going to bed so early. Especially when I texted him a picture of Morhaime and I at 11:45pm on Saturday night.
Bring Business Cards/Contact Info
Chances are you're going to Blizzcon partially because you find value in the Blizzard community, both the creators and the players. You have to try pretty hard to not talk to other gamers. Last con was shortly after Real ID was implemented, so exchanging email addresses with people sufficed. However, this year I'll be more prepared! I'll have business cards with my Twitter handle, my blog address, Battle.net ID, and whatever else I decide. Or at least that's the plan.
6-2-1 Rule
Bim (
@ShieldSpec
) on Twitter suggested this nifty tip, one that I hadn't heard of before, but may be familiar to those who are regular con-goers. The closest experience I have is perhaps a large music festival, like Bonnaroo. But I don't think anyone was practicing the 6-2-1 rule there.
Simply put: 6 hours of sleep, 2 meals, 1 shower. Easy enough, and helps to ensure you aren't tired, hungry
or
stinky, which will make for an better con experience overall for you and those around you.
Note: while practicing this rule, it's also not a bad idea to pack a travel-size container of hand sanitizer.
Get Charged
Portable phone chargers will make your life easier. In 2011, I had a really difficult time finding a good signal, which caused my phone to be on overdrive at all times when I was inside the convention center. Couple that with the copious amounts of pictures you should be taking and your battery will be drained halfway through the day. Don't be like I was, running back to the hotel room in the middle of the day just to plug in the phone. Be prepared.
Take Pictures
Though mentioned briefly above, it really does deserve it's own bullet point. You know that big-arse orc-riding-a-wolf statue out in front of Blizzard HQ? If it's like 2011, they'll have one there. And Illidan. And the Queen of Blades. And a sweet-looking dwarf hunter. Anyway, aside from all of the inanimate objects you'll surely want to be photographed with...nevermind, I'll just let you see for yourself. But last time, there was a murloc. Or, a guy dressed up in a full-body murloc suit...but still! A
murloc!
Any advice you'd add to the list?
----
Update: I was on a lovely little podcast last week called Blizzcon Countdown regarding this article. Big thanks to Jim for having me.
Click here to have a listen
.